There's nothing worse than looking up at your ceiling and noticing you have a roof leak. Leaks can cause a lot of damage to your home, and the repairs can often feel like a significant inconvenience. That said, it's essential to inspect and evaluate as quickly as possible if you think you see evidence of a leak in your home. Taking quick action could save you money by helping you avoid the costs related to prolonged water damage. The professionals at Signature Exteriors, a top-rated roofing contractor in Charlotte, have put together a guide of what to do when you notice a roof leak in your home. We will walk you through the interior and exterior signs of a leak and what to do when you see one forming.
Signs of A Roof Leak
Roof leaks usually have side effects that are easy to identify. We've broken out common signs of a roof leak below.
Interior:
Dark Moisture Spots – Commonly the first sign of a roof leak, brown moisture stains can appear on interior ceilings when there is a water source in the area. There could be multiple culprits other than a roof leak, such as condensation on piping, but if the spot grows in size or appears darker after hefty rains, the roof is likely the cause. To be sure, you can reach out to a roofing contractor in your area that offers free roof leak inspections to determine the source.
Punctures in the ceiling where outside light is visible – We recommend that homeowners check their attic space if they think they have a leak. Often, when the roof is the culprit, you may be able to see outside light through small punctures in the roofing system. If the light is getting through, so can water. If you notice this problem, we recommend you call a roofing contractor as soon as possible to waterproof the area until permanent roof repairs are made.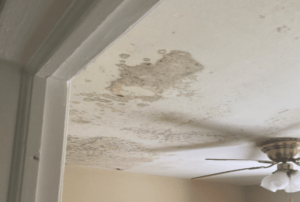 Mold or Mildew – One of the more severe consequences of a roof leak is the potential for mold or mildew growth. Mold can grow almost anywhere there is moisture, and your home is no exception. If you are seeing microbial growth, it's time to call a roofing expert to evaluate your roofing system. Mold or mildew could signify long-term moisture exposure, which you should address as soon as possible. 

Sagging Ceiling – Sagging or water-bubbled ceilings can happen slowly or suddenly and, either way, is not something to be taken lightly. As water saturates the ceiling material, the ceiling becomes weaker while simultaneously supporting the heavier weight of the ceiling materials and the water. If you have a sagging ceiling, call a roofing contractor to help fix the problem correctly. 

Wet wood in attic – When your roof sheathing experiences prolonged moisture exposure, it weakens and becomes less supportive of the roofing materials attached to it (i.e., your shingles). A trusted roofing company should evaluate wet wood in your attic to ensure the wood has not rotted. If so, replacing the wood sheathing and re-shingling the affected area of your roof may be the appropriate solution.
Exterior:
Sometimes, you'll notice roof damage before you notice that you have a roof leak. We always recommend homeowners to walk around their home to check for damaged or missing shingles, clogged gutters or heavy leaf-fall on a section of the roof, or even the integrity of other roofing elements such as chimney flashing or skylight flashing. We've outlined signs of a leak on the exterior of your home below.

Damaged Shingles – Missing, warped, rotting, broken, blistering, or buckling shingles are common exterior signs of a potential roof leak. Shingles are the first line of defense against water intrusion. When they suffer from any damage, it compromises the integrity of your entire roofing system and can allow water to leak inside the attic and home. 

Clogged Gutters – Clogged or slow-draining gutters and downspouts can cause water to pool or settle in areas of the roof that aren't designed to handle constant moisture. If a downspout is clogged, water can be backed up in the gutter and cause an overflow that pushes water underneath your shingles. A long-term solution to this could be to install gutter guards on your home. We recommend using highly-rated gutter guard products such as LeaFree. 

Wear and Tear of Other Roofing Materials – Loose material or wear around chimney and vents is something to consider if you think you've noticed a roof leak. Other roof structures such as chimneys or skylights have installation components (like flashing) that can become compromised or damaged over time. Suppose you are missing bricks on your chimney or have found metal strips in your yard after a big storm. In that case, you may want to have your other roofing system components evaluated by a roofing company to ensure no water is getting through in these areas. 
What To Do When Your Roof Leaks:
recommend that you move all belongings away from the leak area.
Contain the water to the best of your ability: Contain the water to avoid more damage when you notice a roof leak. Do this by placing buckets, towels, or anything else you can find to capture and contain the water to reduce the amount of interior damage.
Relieve the water pressure if sagging is visible on the ceiling: Carefully use a screwdriver or similar tool to puncture the lowest part of the bulge, and make sure to place a bucket to capture the water that comes out. If you leave it, the water could spread and cause more damage to your ceiling or eventually rupture on its own.
Tarp the roof: If you cannot schedule a roofing expert to come out and address your leak right away, tarping your roof will be the next best option for a very temporary repair. If you can determine the source of the leak on the roof, then when the roof is dry and safe to climb onto, place a tarp at least six millimeters thick over the problem area. Ensure that the tarp extends a minimum of four feet across the problem area and up to the ridge. If you cannot access the ridge, tuck the tarp's edges under the shingles to prevent water from leaking underneath the tarp. For more detailed instructions, check out our guide on how to tarp a roof.
Take photos for insurance documentation: Even if you do not think the problem is severe enough to file an insurance claim, make sure to document and photograph the damage. You can use these photos to determine if the leak damage worsens over time. Not only will this show the severity of the damage, but it will also document other items compromised by the damage, such as your television, furniture, or bedding. Your insurance could end up replacing any items damaged from the roof leak should you decide to file a claim.
Call a professional roofing company: A leaky roof could potentially turn into a large project. The longer you wait, the worse the damage can get. Experienced roofers can repair the damaged area effectively and assess your entire roof to look for any other problem areas.

If you notice a roof leak, don't panic! While it is a significant inconvenience to have a roof leak, contacting Signature Exteriors can provide all the relief you need. Our roofing experts will identify the problems and provide you with a solution. We take care of it, so you don't have to. Give us a call today at (704) 729-4898 and connect with one of our professional office administrators to get started.